When furnishing your living room, your centre table is one of the most essential pieces. It's where you put down snacks while watching a movie with friends and family, place books when you want some quiet reading time or hold drinks during those Friday night get-togethers.
Whether you prefer contemporary, modern or traditional style furniture for your living area, countless options will provide comfort and convenience and elevate the look of your space. 
In this article, we'll explore different types of tables that fit different styles and give tips on choosing one that best suits your needs. Our team here at Only Oak Furniture have offered attractive coffee table options for several years; during this time, we have learnt that one coffee table doesn't suit every home!
If you are still looking for the perfect coffee table for your home, please pick up the phone and call our team; we are always more than happy to help you in any way we can. 

What Different Coffee Table Styles Are Available?
Numerous coffee table styles are available, each with a unique aesthetic and functionality. Some popular styles include traditional, modern, rustic, industrial, and mid-century modern.
Traditional coffee tables often feature ornate detailing, curved legs, and intricate carvings, adding an elegant touch to the living space. On the other hand, modern coffee tables emphasise sleek lines, minimalist designs, and a focus on functionality. 
They often incorporate glass, metal, and high-gloss finishes for a contemporary look. Rustic coffee tables evoke a cosy and natural feel with reclaimed wood, distressed finishes, and earthy tones. Industrial-style coffee tables often showcase a combination of metal and wood with a rugged, factory-inspired look.
Lastly, modern coffee tables harken back to the mid-20th century, characterised by clean lines, organic shapes, and a blend of natural and engineered materials.
These are just a few examples of the diverse range of coffee table styles available, allowing individuals to choose the one that best complements their taste and interior design scheme.
How Do You Choose The Right Table For Your Space?
Choosing the right coffee table for your space involves considering several factors to ensure a pleasant and functional addition to your living area. First, determine the table size best fits your space, considering the available floor area and the surrounding furniture.
Consider the height, ensuring it complements the seating arrangement and is comfortable for placing items. Next, consider the style and design that aligns with your decor. Select a coffee table that enhances the aesthetic by taking cues from your room's overall theme and colour palette.
Additionally, consider the table's functionality. Opt for a coffee table with drawers or shelves if you require ample storage. If you frequently entertain guests, choose a table with a larger surface area for serving snacks and drinks.
Finally, consider the table's material and construction, considering durability, maintenance, and how well it complements the rest of your furniture. Considering these factors, you can select the perfect coffee table that fits your space and adds style and functionality to your living area.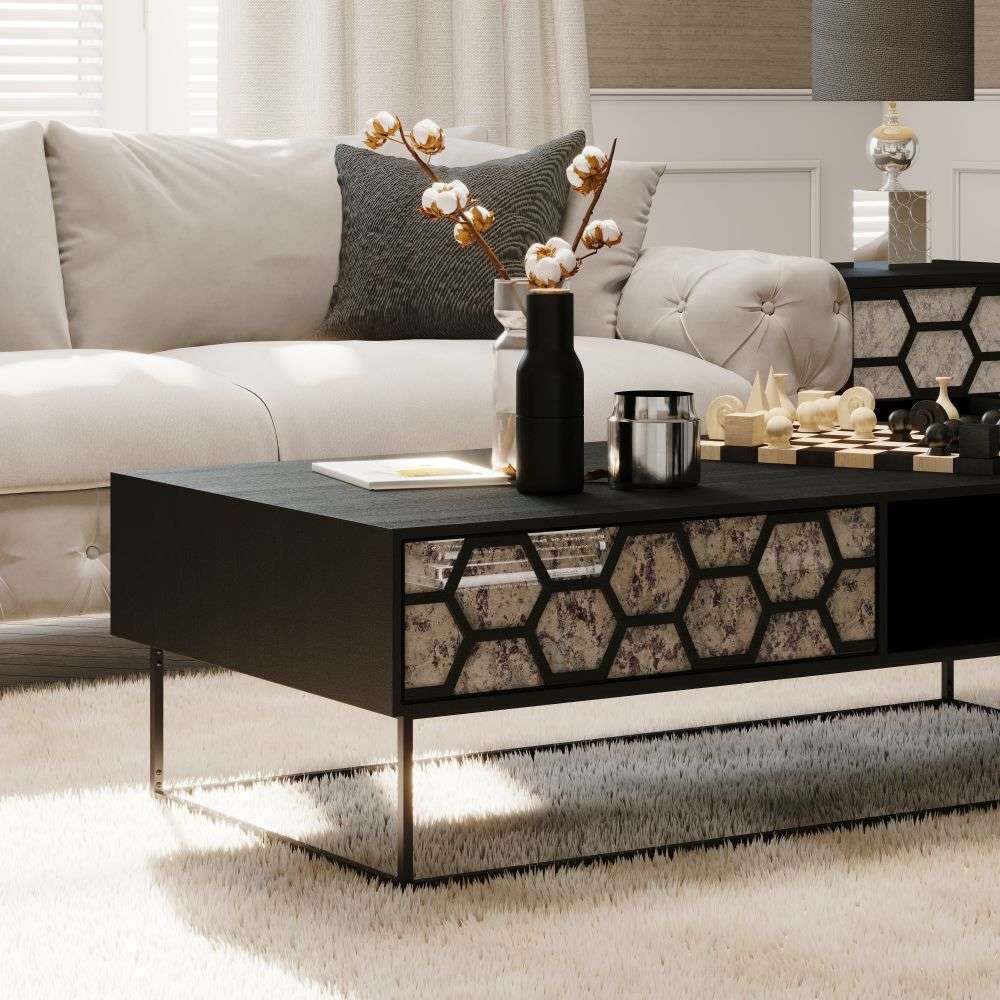 How Can You Maintain An Oak Coffee Table? 
Regular Cleaning: Dust the table regularly using a soft, lint-free cloth or a microfiber duster to remove surface dirt and dust. Avoid using abrasive or harsh cleaning agents that can damage the wood finish.
Avoid Direct Sunlight: Place the coffee table away from direct sunlight or use curtains or blinds to protect it. Prolonged exposure to sunlight can cause the wood to fade or discolour.
Use Coasters and Mats: Always use coasters or placemats under hot and cold beverages, dishes, or vases to prevent heat marks, water rings, or scratches on the table's surface.
Clean Spills Immediately: In case of spills, wipe them up immediately with a soft cloth to prevent moisture from seeping into the wood and causing stains or warping.
Polish and Wax: Periodically, you can apply high-quality furniture polish or wax designed for wood surfaces. Follow the manufacturer's instructions and apply the polish toward the wood grain with a soft cloth. This will help maintain the shine and protect the wood.
Avoid Harsh Chemicals: Avoid using strong chemicals, solvents, or abrasive cleaners on your oak coffee table, as they can strip off the protective finish or cause damage to the wood.
Handle with Care: When moving or rearranging the table, lift it rather than dragging it across the floor to avoid scratching the wood or damaging the legs.
Regular Inspections: Periodically check the table for any signs of damage or wear. If you notice any scratches, nicks, or loose joints, address them promptly to prevent further deterioration.

Order Your Brand New Coffee Table Online Today!
The living room table is an indispensable part of your home's decor. The perfect table can instantly transform your space's look and feel, whether you select a contemporary, modern, or traditional style. 
With the proper selection, you can create that wow factor that leaves guests in awe. Only Oak Furniture offers an extensive range of stylish tables perfect for any occasion in luxurious wood designs to suit any taste.
If you want to add flair to those special moments in life, browse our fantastic selection and find the item that speaks originality and sophistication at prices that fit any budget. Make sure to remember us when furnishing your home today!
Contact Only Oak Furniture now and kick-start your interior design journey with just a few clicks. Get ready to be admired by your peers after transforming the look of your living room with one of our exclusive pieces!
If in doubt, speak to one of our experts at Only Oak Furniture or read our many top tips in our blog section or one of our great articles on the best storage solutions throughout your home!
With 0% interest-free finance and FREE UK Delivery to 90% of postcodes, we are confident of finding the next piece of metal, glass, wood or oak furniture for your home!