If you want to make a powerful first impression, start with your entryway. Curating the perfect entry unit or table can transform any space into an inviting and elegant entryway that greets visitors in style and is functional and organised.
With so many styles available today, finding a piece that works for your needs and design aesthetics is easier than ever. Our team here at Only Oak Furniture have been offering oak console tables for several years; we have seen homeowners transform their hallways with such a simple piece of furniture.
Whether you choose one with modern lines or more ornate details, investing in an eye-catching unit or table can differentiate between guests feeling welcome. It can make your guests feel at home if your hallway is warming.
Discover how choosing the right entryway furniture can enhance your home décor! If you are ready to buy your dream hallway console, browse our collection today!

What Is A Console Table? 
A console table is a long, narrow piece of furniture typically placed against a wall in entryways, hallways, or living spaces. It is designed to be both functional and aesthetically pleasing.
Console tables usually have a flat top surface supported by legs or a solid base. They come in various materials, such as wood, metal, or glass, and can feature intricate designs or simple, minimalist styles.
Console tables serve as versatile pieces of furniture, offering a surface for displaying decorative items, storage space for everyday essentials, or a convenient spot to place keys, wallets, or other belongings as you enter or leave your home.
Selecting The Right Console Table For Your Entryway
Size and Proportions: Measure the available space in your entryway to determine the appropriate size for the console table. Consider the width, depth, and height to ensure it fits well without overwhelming the area or obstructing traffic flow.
Style and Aesthetics: Choose a console table that matches your home's overall style and decor. Countless options are available, whether you prefer a modern, contemporary, rustic, or traditional look. Pay attention to the materials, finishes, and design details to find a table that complements your existing furniture and enhances the visual appeal of the entryway.
Functionality: Determine how you plan to use the console table. Look for tables with drawers, shelves, or cabinets if you need storage space. Consider whether you want a table with a solid top surface or additional features such as a drop-down leaf or an extendable design to accommodate different needs.
Durability and Quality: Invest in a well-designed console table that is built to last. Consider the materials used in its construction and ensure they are high quality. Look for sturdy craftsmanship, strong joints, and solid construction that can withstand regular use.
Budget: Set a budget for your console table purchase and stick to it. There are console tables available in a wide price range, so you can find one that suits your budget without compromising style or quality.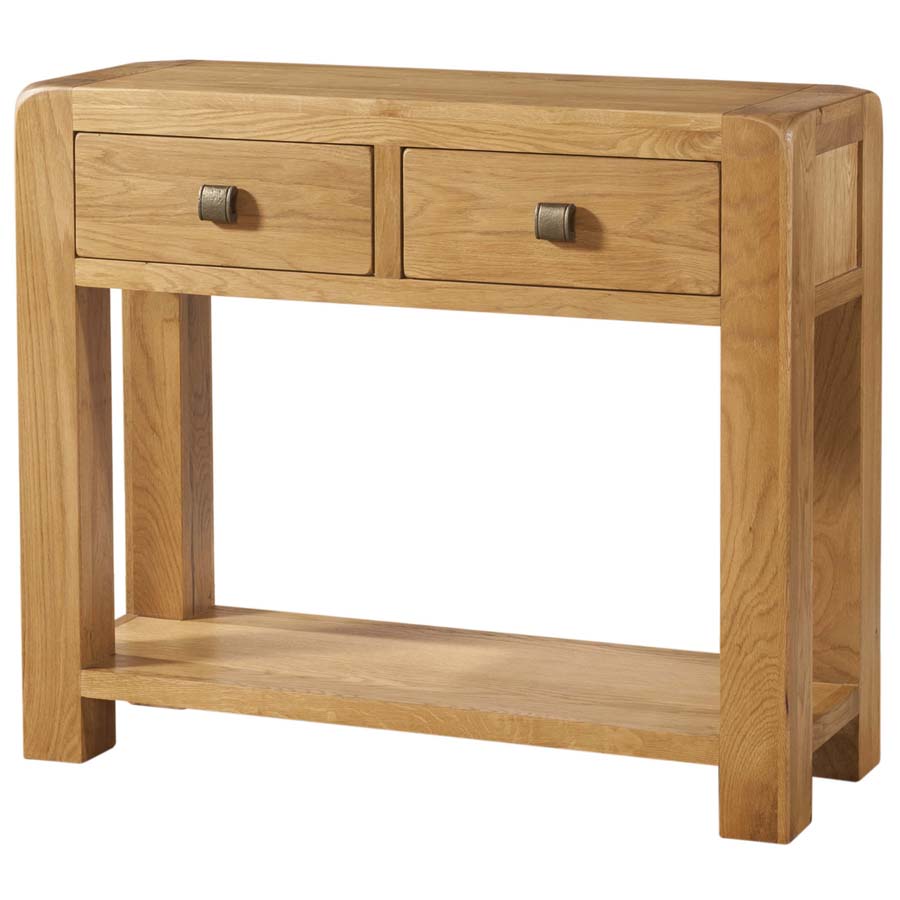 Enhancing The Aesthetics With Decorative Accessories
Enhancing the aesthetics of your console table can be achieved by incorporating decorative accessories that add personality and style to the space. Here are some ideas to consider:
Artwork and Mirrors: Hang a statement piece of artwork or a decorative mirror above the console table. This creates a focal point and adds visual interest to the area. Choose artwork or a mirror that complements the style of your entryway and reflects your taste.
Table Lamps: Place a stylish table lamp on one end of the console table. Not only does it provide functional lighting, but it also adds ambience and a warm glow to the space. Select a lamp that complements the overall style of the entryway and consider the height and proportion in relation to the table.
Greenery and Floral Arrangements: Add a touch of nature by placing potted plants or fresh flowers on the console table. Greenery brings life and freshness to the space, while flowers add colour and fragrance. Choose plants or flowers that thrive indoors and complement the overall aesthetic of your entryway.
Decorative Vases and Sculptures: Display decorative vases or sculptures on the console table to add visual interest and texture. Choose pieces that align with your style, whether modern, eclectic, or traditional. Consider varying heights and shapes to create an appealing arrangement.
Decorative Baskets or Trays: Utilise decorative baskets or trays on the console table to organise and display smaller items such as keys, wallets, or mail. These accessories keep the table tidy and add a touch of functionality and style. Opt for baskets or trays that match the entryway's overall colour scheme or material palette.
Personal Touches: Incorporate personal items or meaningful objects that reflect your interests or hobbies. This could include family photographs, sentimental items, or items collected during travels. Adding these personal touches makes the space unique and tells a story about who you are.
Remember, consider balance, symmetry, and varying heights when arranging decorative accessories to create an aesthetically pleasing display. Experiment with different arrangements and periodically update the accessories to keep the entryway fresh and inviting.
Console Tables For Different Entryway Styles
Modern Entryway: Consider a console table with clean lines and a minimalist design for a sleek and contemporary entryway. Opt for materials like metal or glass with a polished finish. Look for tables with geometric shapes or unique asymmetrical designs to add visual interest to the space.
Rustic Entryway: Choose a console table made from natural materials such as reclaimed wood to create a warm and inviting rustic entryway. Look for tables with distressed finishes or textured details to enhance the rustic charm. Consider tables with additional storage options like shelves or drawers for added functionality.
Traditional Entryway: A classic and timeless entryway can be achieved with a console table in a traditional style. Look for tables with ornate details, such as carved accents or turned legs. Choose tables made from rich woods like mahogany or walnut to create an elegant and sophisticated look.

Browse Our Collections Of Oak Hallway Furniture Today
Improving the first impression your entryway makes is an empowering way to make your home more welcoming and beautiful.
With a stylish unit or table, your foyer will be transformed into a grand showcase of grace and sophistication that visitors and families alike will enjoy.
Whether for display, storage, or both — you simply can't go wrong with Only Oak Furniture for quality pieces in all shapes, sizes and styles.
If in doubt, speak to one of our experts at Only Oak Furniture or read our many top tips in our blog section or one of our great articles on the best storage solutions throughout your home!
With 0% interest-free finance and FREE UK Delivery to 90% of postcodes, we are confident of finding the next piece of metal, glass, wood or oak furniture for your home!