At Only Oak Furniture we can proudly announce that we have partnered with One Tree Planted. We're delighted to be restoring ecosystems and the livelihoods of the millions of people who depend on forests for food, fuelwood, fodder, and other forest products. 
Each month we've committed to donating trees to the locations that our oak furniture derives from. Once our donation is received, the experts then get to growing the saplings which are nurtured before being transported and planted by hand during the rainy season. The saplings are planted on land that has been prepped, weeded and the land is maintained and monitored to ensure their healthy growth.
So why the focus on trees?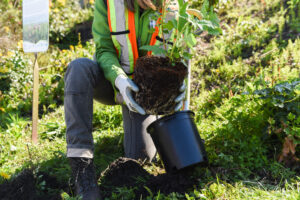 "Trees help clean the air we breathe, filter the water we drink and provide habitat to over 80% of the world's terrestrial biodiversity. They also provide jobs to over 1.6 billion people, absorb harmful carbon from the atmosphere, and are key ingredients in 25% of all medicines." – One Tree Planted Website 2021
One Tree Planted is planting trees across North America, Latin America, Africa, Asia & Europe, it's incredible to see the impact this campaign is having. (Keep an eye on our social media channels such as Facebook to see the progress our donations are making towards One Tree Planted. 
How our customers can join us on our One Tree Planted Journey
We recognised that it wasn't just us that wanted to do our bit for the environment and that our customers wanted to do their bit too!  With that in mind, we are making it simple for any of our customers to give back to the environment and plant their own trees. Whether you're purchasing a wardrobe, dining table, sofa, or even some garden storage… with every purchase made, we are giving our customers the opportunity to donate £1 and plant a tree. The decision of planting a tree is entirely your choice.  – Soon to be launched
If you decide to plant a tree when purchasing your beautiful furniture, then we will send your contribution along with our monthly donation 
So next time you are shopping for your living room, dining room or garden, we'd encourage you to take one moment to decide if you'd like to get involved in our One Tree Planted initiative. If you decide that this is something you'd like to support we'd love to celebrate your donation with you!
When your furniture arrives make sure you tag us using #myonlyoakfurnituretree