Should You Consider Contemporary Dining Tables?
It seems like contemporary dining tables are everywhere these days. Today's question is, why? What makes contemporary dining tables so prevalent in modern homes? We'll look at the history and benefits of contemporary round tables and their rise to popularity to answer this question.
What Is Contemporary Design?
Contemporary tables are those that fall within the modern design era. They typically have a sleek, minimalist look with clean lines and few or no embellishments. Unlike traditional tables, contemporary tables usually don't have a formal look or built-in features like leaves or extensions.
The History of Contemporary Dining Tables
Contemporary tables have been around since the early 20th century. The modern design era began in Europe after World War II, when there was a desire for simpler, more modern designs to replace those destroyed during the war. As part of this movement toward simplicity and elegance, the contemporary round table became popular among wealthier homeowners who wanted something different from traditional styles. The modern dining table died down in popularity in the 1970s and 80s but has seen a resurgence in recent years as more and more people have sought to simplify their lives.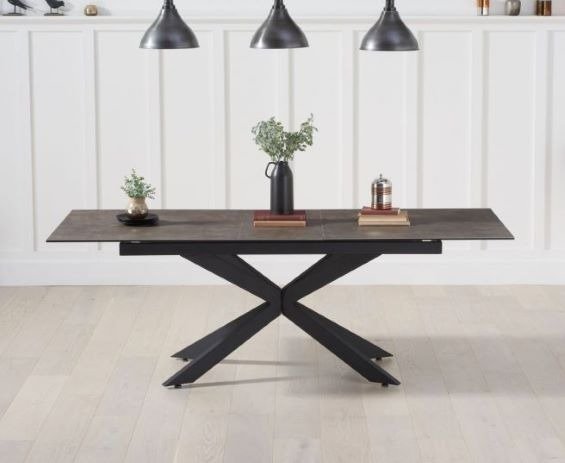 Why Are Contemporary Dining Tables Still Popular?
So, why are contemporary dining tables still popular today? There are several good reasons for this:
Clean Modern Look
The clean lines and lack of embellishments make contemporary round table sets a great choice if you want to create an elegant design without adding unnecessary details or taking up too much space.
Versatility
Contemporary round tables can be used in various settings, from formal dining rooms to informal breakfast nooks. They also come in multiple sizes so that you can find the perfect one for your space.
Durability
Often made from high-quality materials like wood or glass contemporary dining tables are extremely durably. These materials are easy to clean and care for, so the modern round tables can last long without showing wear or damage from spills.
Easy to assemble
Thanks to their simplicity contemporary dining tables are easy to assemble, so you can change up the look of your space without having to hire a contractor. Simply follow the instructions provided, and you'll have your contemporary dining table up in no time. On average, it will take you about 30 to 45 minutes, depending on how handy your DIY skills are!
Easy Maintenance
Many contemporary round tables don't require much maintenance because they're made with materials that are easy to clean. This is due to their modern design, which typically doesn't include built-in features like leaves or extensions. The best way to clean your contemporary round table is simply with a cloth and warm water.
Space-Saving
Contemporary round tables often take up less space than traditional dining tables, making them suitable for tiny homes or apartments. These tables often only take up the space of a single pedestal, allowing you to fit more people around them, so they don't crowd your dining room. In addition, some dining sets allow the chairs to be stored entirely underneath the table, saving even more space.
Affordable
Contemporary round tables come at different prices, so you can find one that fits your budget. The average cost of a contemporary round table is $220-$500, so you won't have to break the bank just to get one.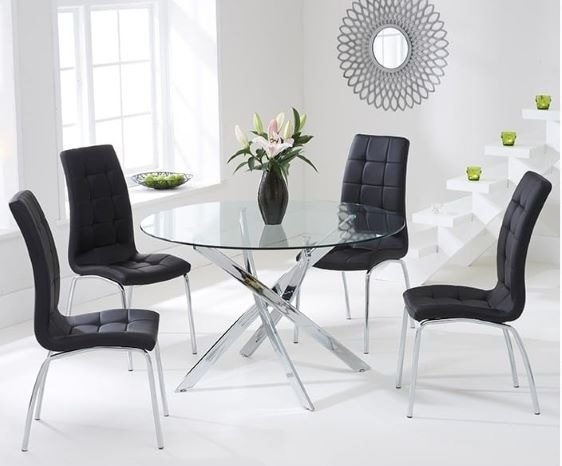 Are our dining tables suitable for your home?
If you're looking for an elegant design with modern flair and easy maintenance, the contemporary round table might be a good choice. As you can see, there are many reasons contemporary dining tables are still popular. But, contemporary round tables aren't for everyone – if you want a traditional or formal look in your home, contemporary dining tables probably won't be the right choice.
How to Choose the Right Contemporary Table for Your Space and Style
When choosing the right contemporary table for your space and style, there are a few things you need to consider:
The size of your dining table will depend on the size of your space and the number of people who will be using it. Make sure to measure your room before buying contemporary dining tables.
Decide whether the contemporary table will be used for formal or informal purposes. If you want to use it in a traditional setting, contemporary dining tables with a wood or glass top are your best option. If you're going to use it in an informal space, contemporary round tables with a metal top are the best choice.
Contemporary dining tables come in many different styles, so it's essential to choose one that matches the style of your home. If you have a modern home, dining tables with straight lines and simple designs are best.
Creating the Perfect Table Setting with Your New Table
There is no point in investing in a beautiful new table to look dull and bare. Once you've chosen the right contemporary table for your space, follow these simple tips to create the perfect table setting:
When placing your tablecloth, make sure to leave enough room on each side of the contemporary dining table to move quickly. You'll also want to leave enough room in the centre of the contemporary table to fit your centrepiece.
Do not overcrowd your table with decorations and accessories. Make sure to have just enough to create the perfect contemporary table setting.
Do not place your table directly in front of windows or behind doors, as this can draw the eye away from your table.
Include a rug under contemporary dining tables to add warmth and comfort to any contemporary space.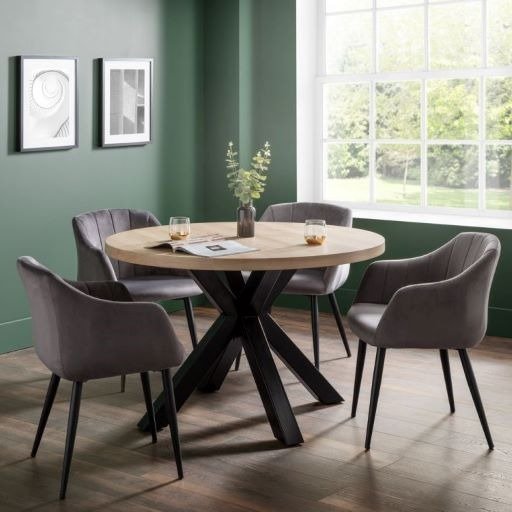 Is A Contemporary Dining Table Right For You?
It's no wonder that contemporary dining tables are still popular. They offer all the benefits of a traditional table with an updated look and feel! And they come in several different styles, so you can find what fits your needs best – whether it's for entertaining or just everyday use. These contemporary round tables are an excellent choice for small spaces. If you would like to learn more about contemporary dining cables we recommend this blog by Decoratorist. For a huge range of furniture in a variety of styles look no further than Only Oak Furniture. Contact us today!