Is a Concrete Effect Dining Table Right For You?
Concrete effect dining tables are an excellent option for creating an industrial, modern, or rustic feel in your dining room. Concrete is a hot trend, and it seems like people are just now discovering the many benefits of using concrete for everything from kitchen counters to flooring.
If you're looking into purchasing new dining sets, be sure to consider how much weight your table can support and if this material stays affordable in future years compared with other materials such as wood or stone!
Concrete Effect Dining Table
Concrete effect dining tables are made to look like concrete but are made from various materials such as wood, metal, glass, or plastic. This means that they can be perfect for a range of decors, from modern to rustic. Concrete effect tables are available in both round and square shapes so that you can find the perfect one for your space. They also come in a range of sizes so that you can find the perfect one for your needs.
Dining room tables are constantly being hit with hot dishes, drinks, and spills. It's challenging to keep them looking new because of all the wear-and-tear that occurs in a household setting; however, a substantial effect dining table is durable enough for years without any scratches or damage from your family using it!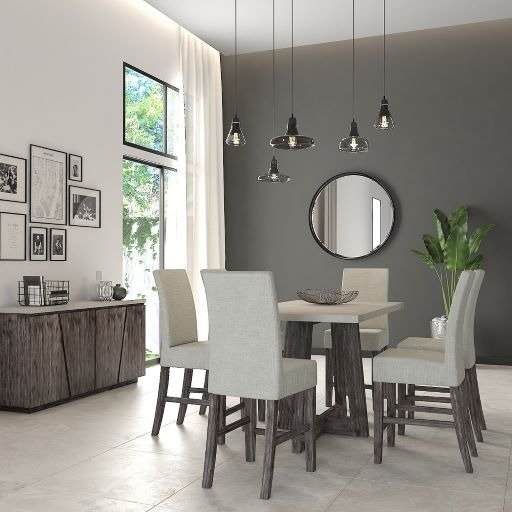 Extending Dining Table
If you're looking for a table that can accommodate more people, then you might want to consider the substantial effect of extending the dining table. These tables can extend out, so you can add on an extra leaf when needed and create more space at your dinner party. Extending tables are also perfect for families who like to entertain often, as you can increase the number of people you can host without spending extra money on a second table and chairs.
Concrete effect tables are an excellent choice for your kitchen, living room, or dining room. They can be used as an accent piece to create more contrast in any already decorated space with concrete elements such as countertops or flooring. These tables also come in various styles and shapes, so you're guaranteed to find one that fits perfectly in your existing space.
Dining Table And Chairs
You can also find concrete effect dining tables that come with matching chairs or benches for a complete look, so you don't have to worry about finding furniture pieces separately. Concrete is the perfect material because it seamlessly matches both modern and rustic decors, making it an easy choice for any dining room. The chairs are incredibly sturdy and can support a lot of weight, making them perfect for those who like to host large dinner parties or have a busy household.
Dining Table Set
If you're looking to outfit your entire dining space, then consider purchasing a substantial effect dining table set that comes with the table and chairs or benches, so they match perfectly!
Sets create a feeling of sophistication and cohesion in any dining room, and the substantial effect will give your space a modern edge. Your guests will always be impressed by your matching and fitting dining room set.
Concrete-style dining tables are perfect if you're looking to create a modern space with your existing furniture. These tables have the same look as concrete but don't come in all of the issues that an actual piece of concrete would, so they can be used for more than just kitchen counters or flooring!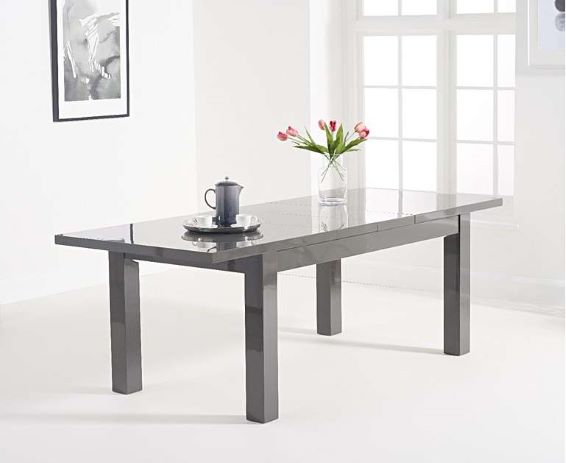 Heavy Duty
Concrete effect tables are not as heavy as solid concrete so that they can be moved around your house with ease. The lightweight material also makes it an excellent option for renters who want to move the table from one room to another without too much hassle or heavy lifting!
Accessories match exceptionally well with concrete effect tables because they have the same sleek and modern look. You can purchase accessories such as vases, plants, or even candles to add a personal touch to your new dining table! In the UK, substantial effect dining tables have become more prevalent. They are perfect for adding that modern touch to your home while still keeping a natural feel.
There are many different types of concrete effect dining tables to choose from, so you're sure to find one that fits your style and needs. With such a versatile material, it's easy to see why concrete effect tablets are becoming a popular choice for many households.
The natural grey weather of the UK matches fantastically with concrete effect tables, giving your home a cosy and welcoming feeling. These tables can withstand all temperatures, from cold winter nights to hot dinner plates at your family gathering.
FAQS
Q: How do I clean my concrete effect table?
A: To clean your concrete effect table, use a damp cloth and mild soap. Be sure to dry the surface entirely afterwards to prevent any water damage.
Q: Can I move my concrete effect table if needed?
A: Yes! Concrete effect tables are lightweight and easy to move around your house.
Q: What type of material is the tabletop made out of?
A: The tabletop on most concrete effect tables is typically made from tempered glass or wood veneer. Tempered glass is scratch and shatter-resistant, making it an excellent option for a busy home. Wood veneer gives your table a natural look that will complement any space.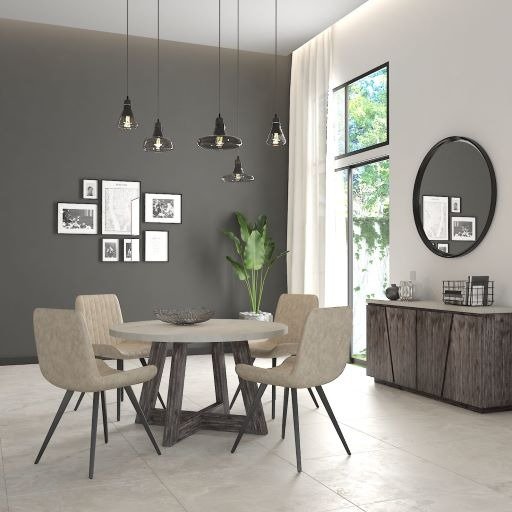 Have You Decided On A Dining Table?
A substantial effect dining table is an excellent choice for those who want to create a design as functional as attractive. They have been designed with the human brain in mind, making them perfect if you're looking for something that will stimulate your senses and inspire creativity even without trying. In addition, this style can work well throughout your home from your dining room to your living room.
If you live in the UK, there is an excellent choice of substantial effect dining tables to choose from, so be sure to take your time in finding the perfect one for you. For more information on choosing the perfect dining table, we recommend this blog by Better Home and Gardens. With a bit of research, you're sure to find the table that will complete your home and make all of your guests envious! Contact our great team and Only Oak Furniture if you have any questions.