Shopping for permanent home fixtures can be a nightmare. Between choosing designs, colours, and items that work with your space, trying to find timeless pieces that stay in style is increasingly difficult – especially when it comes to everyday living spaces we share with our families. In a world where trends cycle faster than we can keep up, versatility is critical – and none is more versatile than the humble ash toned hero, grey!
Now I know what you're thinking: grey has a bad reputation for being devoid of style or statement. But I'm on a mission to show you that grey can be the flexible friend to any living room aesthetic, new or old. So, here are five inspiring ways to style a grey living room.
1: Being Bold by Keeping It Neutral
If you're looking for a style that never goes out of fashion, neutral colours are the new wave. Neutrals and pastels are calming in a living room and pair well with grey to achieve a calm, welcoming space. Neutral colours like cool browns and beiges work best with light grey furniture to achieve a bright, comforting feel.
Light grey furniture with wood effect pairs well with pastel pinks and purples to achieve a warmer, feminine space that's perfect for unwinding and entertaining. Alternatively, go coastal with brisk blues and cold greens for a punchy modern look.
Try accenting larger pieces like grey living room cabinets or furniture sets with colour notes from your chosen neutral palette. Pillows, throws, rugs and trinkets in neutrals and pastels seal the deal to keep your living room up to date with ease.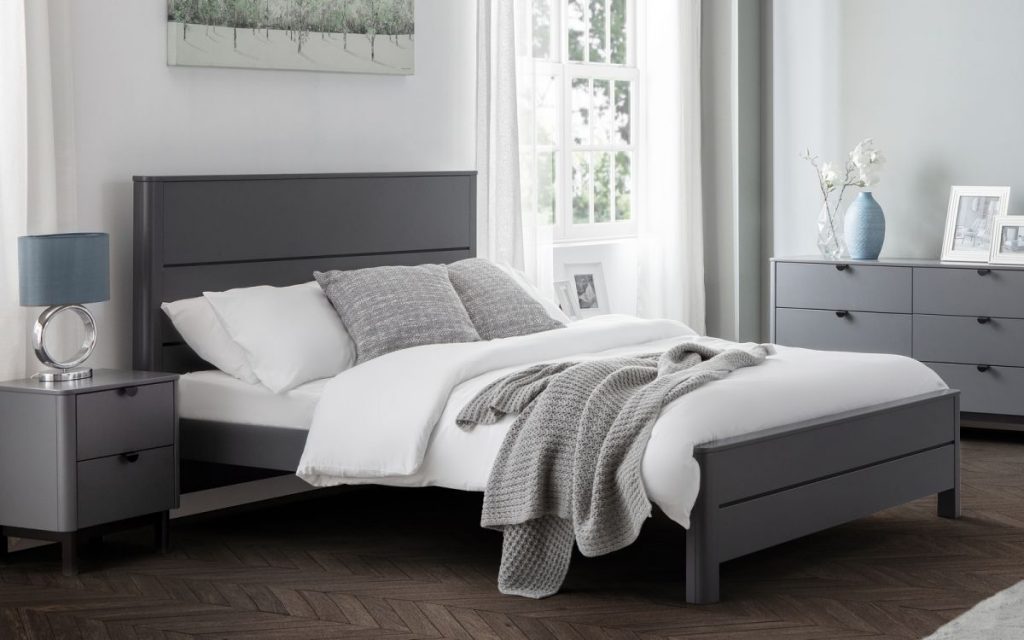 2: Powerful Darks for Stronger Spaces
If neutrals aren't strong enough for you, why not try a more masculine palette that's sure to get heads turning? Unlike light grey furniture, dark grey furniture for the living room can carry solid and confident colours to give any space an engaging presence.
Colours like navy, forest greens, and burgundy reds complement any grey furniture effortlessly and simple style – no need for frills here; a daring dark colour scheme is what you need to command attention to your room. Best of all, this trend lends itself well to modern grey furniture for the living room, such as solid grey units, tables and soft furnishings that frame your living space for an authentically powerful feel.
3: The Power of Contrast
Are you feeling brave? Design freely using the power of contrast to embolden your living room. Simple, minimalist, modern grey living room furniture is the perfect canvas to contrast your maximalist decorative edge.
Why not pair a simple grey lounge set with bright, punchy touches that sprinkle personality into your life? The simpler your greys, the more your chosen patterns and colours will shine and pop. Using bold art prints, vivid blankets, pillows, and an abundance of plant life, you can enrich the personality of your grey furniture easily.
Candles are a particularly strong touch for this choice, looking fierce and quirky on a grey coffee table unit or side bench.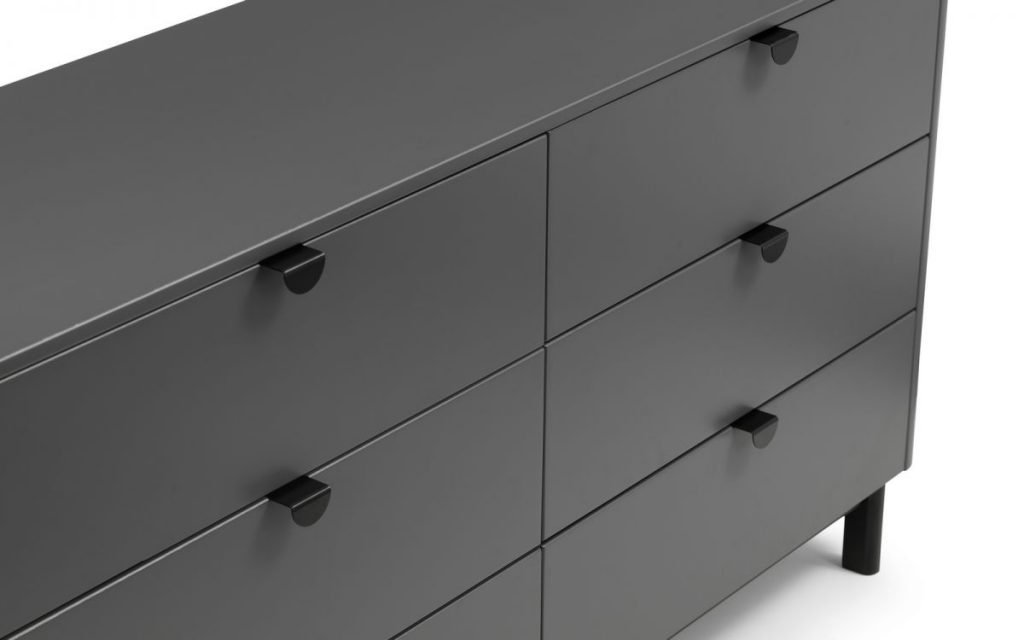 4: Country Chic
While it might feel necessary to over-modernise to fit contemporary pieces in the home, you should never underestimate the classic style of rustic design. Contrary to popular belief, home rustics are still just as compelling as always, especially with the complementary power of natural wood with grey furniture.
Grey and oak living rooms are the calling cards of this updated trend, especially when paired with silver metal touches and natural textures, such as sisal and rattan. A modern rustic feel gives way to a family space that enriches connection with its versatile texture range.
A grey and oak unit resting on a round sisal rug can be accessorised with a sprig of artificial lavender to give a natural touch, perfect for togetherness in the home.
5: Keeping It Fresh
You may be tempted to tack your loyalty onto any trend, but I encourage you to switch your style however you feel. A truly unique space changes with its owners, and grey living room furniture is the perfect canvas to paint your vision without the permanent commitment.
Don't be afraid to experiment with different colours, textures and patterns. With strong furniture pieces such as grey cabinets and units, you can easily complement your furniture without having to worry too much about matching, thanks to the neutral and versatile qualities of ashy grey tones.
So, when you next shop for the newest big choice in your living room, why not give grey furniture a try? With its flexible nature and amenable qualities, grey furniture is perfect for any style, new or old – no matter how indecisive you are!
Here at Only Oak Furniture, we offer a fantastic range of Living Room Furniture including Sofas and Armchairs, Chest of Drawers, Entertainment units, and TV Units. If have any questions regarding a product contact our great team today.