Glass is a very modern and stylish material used in home decor. It can be used to create beautiful living room furniture with a modern look. Glass coffee tables, side tables and even coffee table sets have become increasingly popular in recent years. They are also known as transparent or see-through tables because they allow light to pass through. These glass tables make great additions to your home decor because they can be used to add a touch of elegance and glamour to any room in your home.
There are several reasons why you should choose glass living room furniture for your home:
They're easy to maintain
Glass is straightforward to clean and maintain compared to other materials such as wood or metal. You don't need any special cleaning products or chemicals; just wipe it with a damp cloth, and it will be as good as new!
They add value to your home
If you want your living room to look classy, glass living room furniture is the way forward! Many homeowners prefer using these pieces because they give their homes an elegant and sophisticated look without compromising on comfort or utility!
Durability
Glass has always been known for its durability. Your glass living room furniture will last you a lifetime with proper care. This means that you can buy fewer pieces of furniture as they can be repurposed later on when children grow up or when your taste changes over time.
Convenience
Glass is also very convenient because it allows you to keep things like bookshelves and cabinets open so that you don't lose your items inside them due to poor visibility. You can also see what's inside the cabinets or shelves without opening them so that you don't have to waste time looking for something specific when needed quickly.
Safety
Glass is easy to clean with just soap and water, which means that you don't have to worry about cleaning chemicals damaging your furniture or harming yourself while cleaning them.
Glass furniture gives the room an open feel
When you choose glass living room furniture, you'll notice that the room feels much larger than it actually is because glass can make a room seem like it has no walls at all! The light reflects off of the glass surface, which makes it appear as though there are no barriers between you and what's happening in other parts of the room.
Glass living room furniture is available in all shapes and sizes, so you can choose the piece that best fits your space. A coffee table made of glass will look great in any room where you want to add some extra light, while other pieces like side tables or dining tables provide even more functionality than just looking good.
You can also use glass display cases to show off some of your favourite things without worrying about them getting damaged over time. These cases come in various styles and sizes as well, so there is sure to be one that matches your needs perfectly.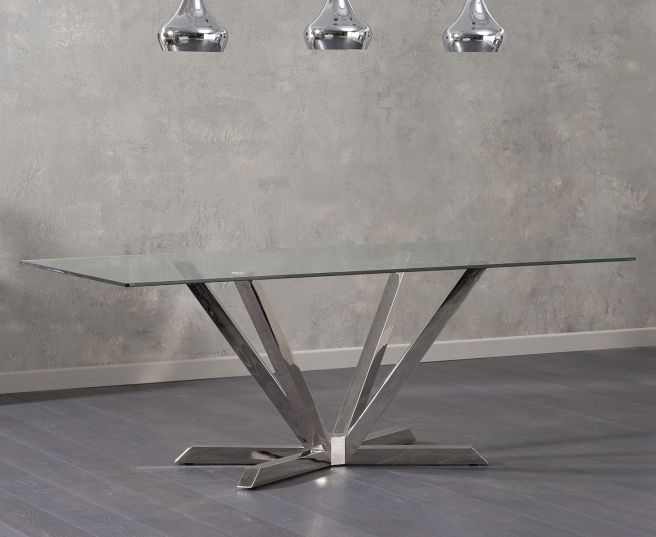 Glass is the new black
It's the material of the moment, and you can see it everywhere, from the living room to the bathroom. Glass offers a modern, sleek and stylish look that is perfect for any home. And don't worry, even though it's made of glass, it's highly durable and sturdy.
When choosing furniture for your living room, it's essential to consider what type of furniture will work best with your space. Glass is a great option because it allows light to pass through and illuminate your space while also creating a sense of openness and airiness. If you have an open floor plan and enjoy entertaining guests, then glass is a great choice because it will allow ease of movement between rooms without disturbing those around you.
Another benefit of choosing glass furniture for your living room is its versatility! There are many different types of glass available, including tempered, laminated or even etched glass, which all add an extra element of style and sophistication to any space!
Clear view
This type of material also provides you with an unobstructed view of what's behind it, so you don't have to worry about anything hiding behind your furniture, such as wires or cords that could get tangled up in them making them look messy
To create a modern look If you want to create a modern look in your home, it is best to choose glass furniture instead of wooden or metal pieces. This is simple as glass looks better than other materials when combined with different colours like black or brown. You can also paint these colours over the glass pieces to match well with the rest of your décor!
It adds light to your living room
The light that comes through glass is beautiful and will make any room look brighter and more spacious. This is especially true for windowless rooms with no natural light coming in from outside. If you choose glass table lamps or other pieces of glass furniture for your living room, the light will reflect off the details and bounce around the room, giving it an elegant appearance.
Glass furniture can be used in any room in your house
The beauty of glass is that it blends well with any style or theme in any room of your home. You can use glass cabinets, tables and chairs in your kitchen; you can use them in your dining room; you can use them in your living room alongside your space-saving sofas or even bedroom – they look great in every space!
If you are looking for inspiration, just pick up the phone, contact us or jump on live chat, and any of our team will be on hand 7 days a week to try and point you in the right direction.
With 0% interest-free finance and FREE UK Delivery to 90% of postcodes, we are confident of finding the next piece for your home!