Ordering Garden Furniture
The summer season is approaching and we're all wanting to get garden ready so we can enjoy those warm sunny days in comfort and style. If you are ordering Garden Furniture from Only Oak Furniture or have done so recently there are some important things you need to know. We are currently inundated with messages regarding garden furniture orders so we imagine that this will help.
You might have seen our previous blog entry regarding the shipping and container issue that the UK are currently facing. We all know the last year was unprecedented and nobody could predict what was going to happen. As we continue to battle Covid the Government now has containers full of PPE being stored at the docks in reserve. However, what this means, is whilst those containers are full of PPE, they can't be used to ship other goods from overseas which is causing a delay in our shipments and other furniture shipments industry wide. (Read the full story on shipping issues here)
What does this mean for you?
We have very limited garden furniture in stock, so it is important that when placing or chasing your order you are checking what the individual item says on the website.
As you can see here underneath the price the green writing states "AVAILABLE ON BACK ORDER". This means that the item is currently NOT in stock.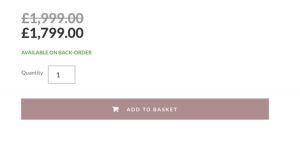 If you place an order for an item that is on back order you will be allocated stock. We only have a limited amount of stock for each item so if the item sells out during back order, it will be marked as out of stock. If you have already placed your order whilst it was on back order you can rest assured that your item has been assigned to you. Our customer service team will contact you when there is an update to your delivery date.
Should I wait until the items are in stock to order?
 Whilst we don't have a confirmed delivery date for our garden furniture ranges including 2020's most sought after sun loungers, we are still seeing a large number of orders being placed. We can't predict how quickly stock is going to move and last year we sold out of our Garden Furniture by May, so if you are looking to get your hands on the garden set you've always dreamed of it's worth placing your order whilst the item is on back order if you don't mind waiting to ensure that the stock is allocated to you once it arrives.
We are working extremely hard to get the shipments moving again and we are looking forward to providing you with a comfier, stylish summer. We thank you for your patience in this.
You can also get some top tips on how to make your garden holiday friendly or 10 tips on choosing the right garden furniture right here. All of this is only amplified by the recent issues in the Suez Cannal, you can find out more here